recent

registrants
search

alumni
recent

pictures
To submit news items, please email alumni@weston.org.
WPS District info and some useful links:
Check out the new Weston Public Schools website here
Read the Weston High School online newspaper Wildcat Tracks
Keep up to date with WHS Athletics
Read the latest issue of The Weston Town Crier
Read the online newspaper Weston Patch
---
Click on a Class on the right to check out the classmates from your year
posted 5/16/2023
Can you believe it - 40 years! We are well underway for a fantastic 40th reunion with a charity component! We have 50+ paid/registered '83 classmates coming from 15+ States including Hawaii, Oregon, CA, TX, FL and 10 others - see registered list (so far) here. Please help us get the word out to everyone - link to our flier. It will be held at the Weston Golf Club, Grand Ballroom, 275 Meadowbrook Road.This will be a big, exciting reunion like no other with great food, a cash bar, multimedia entertainment and great music making this a rockin' good time! Click here <<to RSVP, update your contact information and purchase tickets online safely click link here>>
Please call Mike Morris @ (919) 621-3721 or email any questions to westonhigh83@gmail.com
Join our WHS '83 Facebook group here: https://www.facebook.com/groups/westonhigh83
And, see and share our website with more details. We look forward to seeing you on 9/30/2023!
posted 5/9/2023
WESTON HIGH SCHOOL CLASS OF 1973 50TH REUNION
OCTOBER 14, 2023
Can you believe it - 50 years. We are in the process of finalizing our plans but wanted to get the word out. It will be held at the Weston Community Center on Alphabet Lane. More details are to come but there will be food, refreshments and a rockn' good time.
Please email any questions to dteittinen@gmail.com
We also have a Facebook page - https://www.facebook.com/groups/102727319892876
Again, more details to come. Looking forward to seeing you.
posted 8/25/2022
WHS CLASS OF 1972 IT'S TIME FOR OUR 50TH REUNION!!
PLEASE JOIN US ON OCTOBER 15, 2022 AT 7:00 pm AT THE WESTON COMMUNITY CENTER ON ALPHABET LANE FOR A NIGHT OF FUN. FOOD, MUSIC AND REMINISCING WITH FELLOW CLASSMATES! WE HAVE HAD A GREAT RESPONSE SO FAR, PEOPLE COMING FROM NEAR AND FAR.
PRICE: $100/TICKET. PLEASE SEND CHECK TO STEVE CAMPBELL. Steve Campbell WHS72, 54 Plain St., Millis MA 02054 or Venmo: Stephen Campbell @Stephen-Campbell-237.
HEAVY HORS D'OEUVRES, LIGHT DINNER, AND CASH BAR. WE ARE STILL PUTTING TOGETHER THE FINE DETAILS, BUT WANTED TO GIVE EVERYONE A CHANCE TO PLAN. THE HAMPTON INN IN WALTHAM OR WESTIN HOTEL IN WALTHAM ARE THE CLOSEST HOTEL OPTIONS.
WE HOPE TO SEE EVERYONE, SPREAD THE WORD…IT WILL BE FUN! MORE INFORMATION WILL BE COMING. ANY QUESTIONS, PLEASE EMAIL ME.
LISA (GUSTIE) GREENE
Also check out our Facebook groups:
https://www.facebook.com/groups/1289979708203150
https://www.facebook.com/groups/622039771143902/members/friends

---
John G. King, WHS Class of '69, passed away January 8, 2022 in Albany, GA.
---
Joan M. Bigham August 12, 1951 - May 10, 2021 Marlborough, Massachusetts
Joan M. "Jody" Bigham, of Marlborough, died on Monday, May 10, 2021 at Marlborough Hospital. She was 69 years old.Jody was born in Boston on August 12, 1951 to the late Edward T. and Marie E. (Geisler) Bigham. She moved to Weston from Waltham with her family when she was a child and graduated from Weston High School in 1969. Continuing her education at Boston College, she developed a love and passion for teaching. She earned her degree in 1973.She had worked for many years as a teacher in the Waltham public school system. After staying home for a time to raise her three children, she returned to work as a teacher's aide in Weston. She was a wonderful and caring teacher and touched the lives of many students. Outside of her work, she loved spending time with her family.A devout Catholic, she was a faithful communicant at Immaculate Conception Parish in Marlborough.
In addition to her parents, Edward and Marie, Jody is reunited in Heaven with her brother, the late Edward T. Bigham, III, Esq.She leaves her children, Christopher M. Connor of Marlborough, Jennifer A. Carnell (James) of Norwood, and Alexandra B. Connor of South Boston; her brother and sisters, Penelope E. Comeau (Phillip) of Virginia, Deborah E. Bigham, Esq. of Weston, Peter J. Bigham, MD (Kathleen) of Georgia and Susan E. Bigham (Richard Fratto) of Waltham, and many nieces, nephews, and their families.Jody's Funeral Mass will be celebrated in Immaculate Conception Church, 11 Prospect Street, Marlborough at 11 a.m. on Tuesday, May 18th.Memorial donations may be made to Let Them Live, 5220 New Haven Avenue, Fort Wayne, Indiana 46803 or by visiting LetThemLive.org Ad Majorem Dei Gloriam.
A note from the funeral home pursuant to Governor Baker's recent order:During times of uncertainty and crisis one might wonder what to do at the loss of a loved one or how to show support to a friend given the limitations that the pandemic continues to present.Telephone your friend to offer words of love and support, give them a virtual hug, drop something delicious by the house, leave a condolence on the funeral home website, make a donation to their favored charity, send a card or flowers or have a Mass said, remain in touch, and above all else . . . say prayers for the deceased and their family and the world during this difficult and unprecedented time.These simple gifts of sympathy and charity are more valuable than you will ever know.When public wakes are held capacity limits mean that your visit should be brief to allow other guests time to say hello to the family. Only members of the immediate family remain present throughout.It goes without saying that people who have lost someone are especially sensitive and understanding to the concerns that some of their own family members and friends may have about visiting any public places right now. If this does not feel like the right time for you to venture out please don't.Space limitations also mean that funeral services inside the funeral home and in some places of worship may also be private.Most services, at the family's request, will also be livestreamed and recorded for future viewing. The link to access the channel is found at the bottom of the obituary notice online.During any events, public or private, common sense precautions prevail. That includes masks covering your nose and mouth, staying with your household group throughout the services and keeping a sensible distance.Thank you . . . again . . . for your patience and understanding.
http://joycefuneralhome.tributes.com/obituary/show/Joan-M.-Bigham-108518211
--------------------------------------------------------------------------------------
Douglas P. Weymouth March 14, 1951 - March 2, 2020 Weston, Massachusetts http://joycefuneralhome.tributes.com/obituary/show/Douglas-P.-Weymouth-108248043
Weston – Mr. Douglas P. Weymouth, of Weston, died Monday, March 2, 2020 at Winchester Hospital following a period of declining health. He was 68.Doug was born on March 14, 1951 in Pasadena, California, the son of the late Ira C. and Josephine A. (Ricciardi) Weymouth. As a young boy he moved with his family to the east coast, first settling in Waltham and later to Weston in 1962 where he would finish out his schooling. He was the longtime proprietor of the J&N Joke Shop and Eastern Coast Costume Store on Moody Street in Waltham.Doug had an affinity for classic cars. He especially loved his 1973 Cadillac Eldorado, and of course, any classic Corvette. He was also an avid reader and enjoyed spending time with his children and his beloved grandchildren.In addition to his parents, he was predeceased by his sister, Debra L. Weymouth. He leaves his children, Kendra A. Weymouth of Littleton, Nicole D. Weymouth of New Smyrna, Florida, and Douglas P. Weymouth, Jr. of Littleton; his grandchildren Paige A. and Leiah N. Murray and Viviana A. Ortiz; his former wife and friend, Nancy A. (Doherty)Weymouth and his favorite niece and pal, Coryleigh Devane-Lopez. Family and friends will honor and remember Doug's life by gathering for calling hours in the Joyce Funeral Home, 245 Main Street (Route 20), Waltham, on Sunday, March 8, 2020 from 2 p.m. to 5 p.m. and again on Monday morning where his funeral service will be held at 11 a.m. Burial will follow in Linwood Cemetery, Weston.
----------------------------------------------------------------------------------------
Sad news, Marie L. Butera, WHS Girls' Physical Education/Wellness Teacher and Coach of 38 years passed away July 4, 2021.
BUTERA, Marie L. January 31st, 1934 - July 4th, 2021 "Winning tournaments and games is wonderful but, what it's all about, really, is seeing the kids develop through school and athletics and live a good life." This statement, made by Marie in an interview with her then, 11 year old great-nephew, defined her mission as a dedicated teacher and coach for many years. While many would go on to further achievement in the athletic realm, she hoped that her instruction and the experience she provided impacted all she met in a meaningful way. Her passionate lessons on the fundamentals, fitness, improvement, teamwork, sportsmanship and "winning attitude" continue to resonate among those she has touched. In this way, her many beloved student-athletes, friends, and family members will ensure that the "winning" never ends. On Sunday, July 4th, 2021, Marie passed away peacefully following a long and courageous battle with Alzheimer's disease. While this disease gradually stole a lifetime of cherished memories, she has now won them all back as she moves on to her eternal home. Born to the late Santo and Concetta Gentile Butera on January 31st, 1934, Marie was the second of four children. She went from motivating games of tag in their Brighton neighborhood to convincing teachers in high school to allow girls to participate in activities only offered to boys. Desiring to become a teacher after graduating from Brighton High School in 1951, she chose to attend Sargent College at Boston University. During this time, particularly during the "Sargent Camp" held each summer, Marie gained entry and instruction in a variety of sporting activities. She loved and excelled in all of it, grew fiercely competitive, and went on to compete at the highest levels of field hockey and lacrosse available at the time. With her BU degree in 1955, Marie went on to be a dedicated physical education/wellness teacher and coach in Weston for 38 years, until her retirement in 1994. A devoted member of her family, her only hiatus from coaching occurred in 1988 when she took a year to care for her beloved mother. Over her tenure, she coached many sports, but was most revered for developing the highly competitive field hockey (402 wins, 54 losses) and lacrosse programs (237 wins, 70 losses). She started the girls' lacrosse program in 1958 (before the boys even had one), making it the first public high school lacrosse program in the state of Massachusetts. Her 84% winning percentage in field hockey, including multiple undefeated seasons, ranks her within the top 15 in wins nationally to this day. Beyond her competitive success, Marie prided herself on her teams' outstanding sportsmanship, which was often noted by her peers in the coaching community. Among her numerous accolades as a coach, she was the first woman to be named the Sons of Italy Coach of the Year, was a (3x) Boston Globe Coach of the Year, a recipient of two BU Hall of Fame awards, and was recognized by the National Federation of Interscholastic Coaches for Excellence in Coaching (in both Field Hockey and Lacrosse). While her list of honors as a coach is extraordinary, her true impact extends her coaching legacy well beyond the trophies and plaques, and into the hearts of her beloved players. Along the way, Marie fell in love with the game of golf. Her passion for this new game and fondness for the beach motivated the purchase of a cottage in Mashpee and her membership at the New Seabury Country Club. Like with everything else she competed in, she was a phenomenal golfer, winning her own club championship over twenty times, including her final time at the young age of 72. Marie spent most summers on the Cape honing her "fundamentals" and playing (and winning) many tournaments. While she served on the Executive Committee of the Women's Golf Association, her greatest joy was introducing this newfound love to her family and friends. Marie was a passionate, decorated sportswoman and coach who courageously forged her own path through a time when women did not have the same opportunities they have today. She was a pioneer, a fierce competitor, and a deeply loyal friend. And in her own humble, classy way, through the people she has touched, she was an inspiration...not just to break barriers, work hard, get outside, and exercise...but to be a kind soul and live a "good life." Marie was predeceased by her beloved parents, her dear brother and sister, Santo Butera and Celia "Ceci" O'Toole, her brother-in-law, Guerino Lucente, her great-niece, Cici Vachon, and many dear friends, particularly Eleanor "Ellie" Cosgrove, and her longtime partner, Ed Connolly. Marie is survived by her sisters, Sally Butera Lucente and Mary Butera, her brother-in-law, Patrick O'Toole, and her nieces and nephews, John and Caryn (O'Toole) Vachon of Medfield, P.J. and Amy O'Toole of Millis, Robert and Nadia O'Toole of Newton, John and Cathy Butera of Norfolk, Diane Nozawa of Brighton, Joan LaVoie of Walpole, Paul and Diane Butera of Newton, Rick and Donna Lucente of Norfolk, and Wayne (Marlow) and Laura Lucente of Framingham. She is also survived by her seventeen great-nieces and nephews, many of whom play lacrosse and other sports, carrying on her love and legacy. On Thursday, July 15, 2021, a Visiting Hour will be held in the Robert J. Lawler & Crosby Funeral Home, 1803 Centre St., WEST ROXBURY. Followed by a Mass of Christian Burial in St. Theresa-Avila Church, 2078 Centre St., West Roxbury, at 10 A.M. Interment will follow in St. Joseph Cemetery, West Roxbury. In lieu of flowers, donations may be made to the "Marie Butera - Empowering Women through Sports - Scholarship Fund" via GoFundMe at:
https://gofund.me/8ea823c9
This fund will be used to establish an annual scholarship award for a deserving student-athlete at Weston High School. For directions and guestbook, please visit
www.lawlerfuneralhome.com
Robert J. Lawler & Crosby Funeral Home 617-323-5600






Passing of Lynne Michelle Lee, Class of 1969
Lynne M. Lee, passed away April 11, 2019.
NORTH FALMOUTH - Lynne Michelle Lee, 68, of North Falmouth, Massachusetts, passed away on April 11, 2019 after a courageous battle with cancer, at home surrounded by her loving family. Born October 13, 1950 in Newton, MA, Lynne was the fifth of six children born to Doris and William Lee. A graduate of Weston High School, she earned a BA from U Mass Dartmouth. Mother of Christopher Chace Pearson and his partner Daphne Dentz, and William Harrell Lee, loving grandmother of Oliver Chace Pearson, sister to William, David, Diana, Theodore and Richard and a favorite aunt to 16 nieces and nephews. Lynne is remembered as a kind, loving mother, wife, sister, and aunt. Having a passion for helping animals in need, she adopted many who found their way to her door. She worked in the Falmouth Schools as a teacher's assistant, a position that brought her great joy, until she retired in 2018.
Relatives and friends are invited to a celebration of her life on May 4th at 2:00 pm at North Falmouth Congregational Church. Burial is private. In lieu of flowers, donations can be made in her name to MSPCA Cape Cod at https://www.mspca.org/donate-now/
---
Passing of Mr. Peter H. Richardson, former Weston School Committee member
Here is link to his obituary:
I also share the wonderful words of retired Assistant Superintendent John Stayn:
Few, if any, are left in the school system who remember Peter H. Richardson, whose obituary appeared in the Boston Globe a day or two ago. Among the facts missing in the article is that he was elected to the Weston School Committee, after serving on several education-related groups in Weston. One of those groups was a study committee that led to the development of plans for what in the late 1960's became the new Weston Junior High School, later renamed Weston Middle School. He was instrumental in getting the new school passed by Town Meeting and in supporting the concepts and policies that became the House system that exists to this day. For those of us who were involved in teaching the sciences, Peter was especially helpful in promoting the building of the laboratory science rooms.
As a School Committee member, Peter had a distinguished role in maintaining balance between the educational priorities of the school system and the financial concerns of the Town. Among other tasks, he happily accepted the role of fair negotiator in a number of collective bargaining agreements and proudly advocated for some of the more progressive contract provisions, many of which, I assume, remain in place or were slightly amended. He also continued his strong advocacy for the sciences through his work on budgets and personnel recruitment.
In my humble opinion, it would be a too bad to not acknowledge Peter H. Richardson's service to the Weston Public Schools and the Town of Weston. I am sure that the Town Report includes his dates of service, just as his obituary contains details about his family, career, and life after Weston.
John Stayn
---
Victor Nahigian, WHS '07, passed away
The weekend of March 22-23, 2014. Visiting hours at the Giragosian Funeral Home, 576 Mt. Auburn Street, Watertown, Thursday, March 27, 2014, 5-8pm.
Funeral services at Holy Trinity Armenian Church, 145 Brattle Street, Cambridge, Friday, March 28, 2014, 11am.
Posted 3/25/14
---
Weston 300 Aerial Photo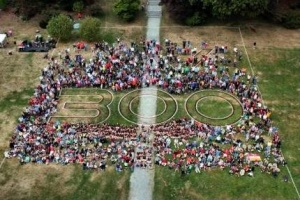 On 10/15/13, people stood in formation on the Town Green to commemorate the tricentennial.
Get a digital copy for free
or an
8" x 10" copy for $10
by contacting
Gloria Cole, Director
, Weston Media Center-781-642-8508
Weston300 Basketball game